The car was originally purchased by my Grandad in September 1974. It was his second Triumph (his first being a blue 2000 auto). It is red – code 72 (Pimento?) - with a manual overdrive box and black interior. Unfortunately he died about 18 months after buying it. I was only 6 months old so unfortunately only know him by photos and memories shared by family . This motor has always been referred to by my family simply as 'the Triumph'.
My Nan can't drive but wanted to hang on to it and as we lived so close, literally a few doors down, my parents used the car as their daily driver for many years. It has always lived in the garage at my Nans. It eventually became a second car for high days and holidays. Finally a combination of burgeoning fuel costs, and it being the second lot of road tax, MOT and insurance required as a second car led to it being parked up the best part of two decades later, in May 1996 (we presume, as this is when the last MOT ran out). It's done about 87k miles and aswell as commuting and shopping etc took us all over the country. I learnt to drive in it, my sister learnt to drive in it, I collected my wife in it for our first date. It holds a lot of memories but to be honest, if my Nan wasn't so attached to it, it would probably have gone long ago. The garage space has not been needed though so it has stayed put. It used to be started every little while and my Dad had intended to restore it when he retired. The reality is, after a lifetime in the motor trade, he really hasn't got the heart for it, especially tin work.
I've been thinking on it for a while but am now in a position where I can, and want to, see it back on the road. So roll on to the May Day bank holiday and me and my Dad decided to start it and move it. It had not started in at least five years…. It was buried under various detritus such as old kitchen chairs, some carpet, various cables and boxes of crap. Looking really sorry for itself. So all of that was cleared.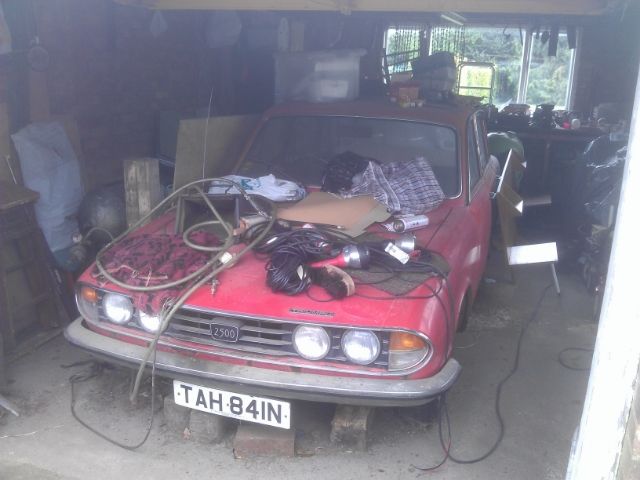 Right engine, first thing, does it turn? Turned it by hand a little first using the fan, all ok, not seized, phew. A check of all the fluids, fresh fuel and charged battery attached, king lead off and crank till the oil light went out. Sounds good so far. King lead back on ready, crank but no fire. Never having had a car with mechanical type points I had a quick lesson on checking and setting them. Still no fire. Are the plugs sparking? Yep. Check fuel is reaching the carbs? Yep good flow. Then another quick lesson on the carbs, again a new one for me. It appears they were just a bit stiff after being sat for so long. Then the Six fired up. Sounded really good!! And loud due to not much of the exhaust remaining but definitely a big grin moment.
The next problem was that the clutch was stuck, we couldn't engage gear so we pushed it out onto the drive, at least the brakes weren't stuck!
It's first taste of daylight in many years. The clutch is still stuck fast.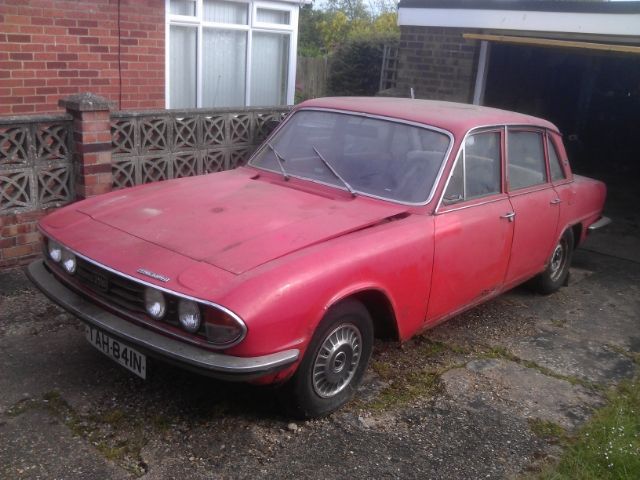 In the sunlight I had a look around the body work. I reckon:
Roof – good
Bonnet - good,
Bootlid - good,
rear panel, light area - good
bulkhead and inner wings/engine bay - good
NSF door - may need a reskin but definitely some work
NSR door – good
OSF door – good
OSR door - good
NSF wing – lip is poor as it the front edge where it is shaped to meet the front panel and valance
NSR quarter – Ok but some repair required around arch
OSF wing - ok although the inner arch is holed at the top
OSR quarter – Ok but some repair required around arch
Sills – Solid if tatty, have been extensively repaired previously by my Dad with the inner box repaired and new outer fitted, probably a couple of years or so before it was laid up.
Boot floor / wheelwell – looks ok
Floor OS – Bad, front footwell gone, rest is ok.
Floor NS – worse, has detached and disintegrated when poked from footwell to rear seat box, possibly further, front outrigger was paper thin and left a mud mould behind when it fell off, chassis rail looks a bit tender too. I couldn't really get under to see properly.
The brightwork looks in good condition though
TBH I was a bit surprised by the extent of the rust since it has been stored in a garage. Still, I'm no stranger to rust and welding having owned a couple of Range Rover Classics. Both probably had otherwise terminal rust but I still have one as my daily drive and the other is still in use somewhere. I do know though that no matter how bad rust and rot looks, it's probably worse!!
I mentioned a practical restoration. What I mean by that is one to get it useable again, I doubt I'll be buying repair panels unless I really have to, although I will probably have to buy the footwells. If it wasn't
this
car I don't think I'd even consider taking it on, especially considering the probable value when it's done.
So aside from all the welding and body work supplies I figure it'll probably need for starters:
Tyres
Door seals – the current ones have separated themselves at the corners
Exhaust
Front dampers – these are solid, may free up
Hoses
Points / HT Leads
Respray
Maybe some bushes
Phew, that turned into an essay, if you're still here thanks for sticking with it. The trouble is, now I've written this all down it seems like a lot to do! Probably be a slow process but I'll try and update as I go.
cheers, Steve